Vintage or shabby chic clocks as a new idea for wall decor?
Please have a look on this short video below that demonstrates one of our beautiful shabby chic clocks. Let me know what you think about them and how I can improve my work to make them more suitable for your needs? We have many more designs available with three different sizes. The one you can see below is 40″ and it doesn't really overwhelm the room at all. Lower down in this short blog section I have included some more information about our shabby chic timepieces and hope you will enjoy the read!
The birth of Peak Art's shabby chic clocks
I didn't really know much about shabby chic clocks or the design trend itself before we started Peak Art. It was in early 2014 when I came up with the idea of handmade clock where the face is cut out of single piece of wood. Of course I don't just mean a large wooden circle but something with a true "wow" effect. Something that resembles a sculpture rather than a wall clock.
The french timepiece you can see below is one of the first clocks I ever made. Trust me it took weeks to reach the state when I was happy with it. Believe it or not, it was initially rusty clock face and a gold background. I tried to change numerous times to my husband's frustration. In the end I completely changed the face colour to chateau grey, while letting some of the previous rustiness be visible! I then had to work on the background colour to make it look old and have more character. Finally I was no longer embarrassed by the product and could put it on the website. The new family of shabby chic wall clocks was born.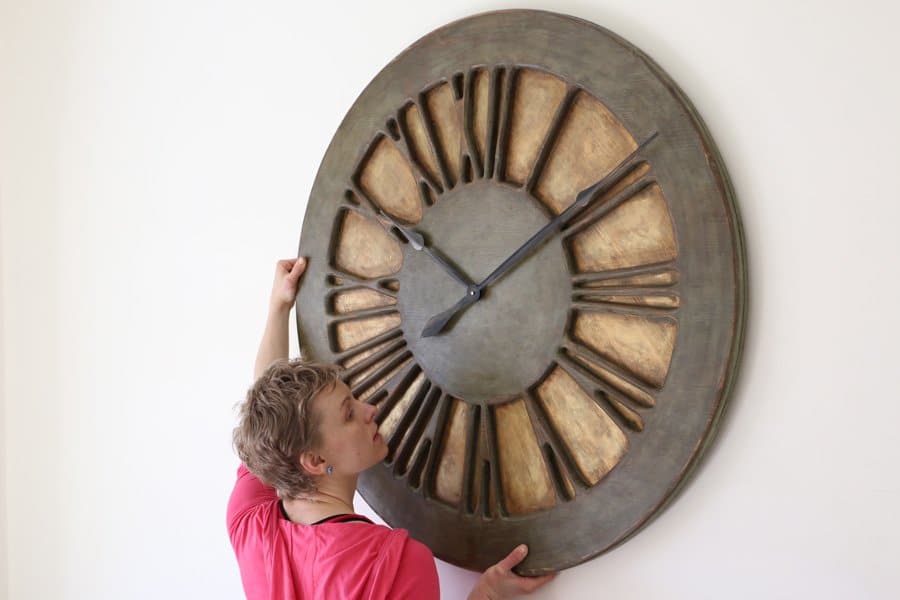 White shabby chic clocks
I didn't quite realise how popular shabby chic or rustic design was. People were looking for various shapes and sizes. Some customers were often asking about white wall clocks with traditional Roman Numerals and skeleton design. The next picture shows one of them with 100 cm diameter but I can now also make it as 75 cm or 120 cm. Most beautiful and distressed large roman numerals contrast really well with grey wall colours. Customers searching for rustic wall clocks are often asking about this white shabby chic timepiece.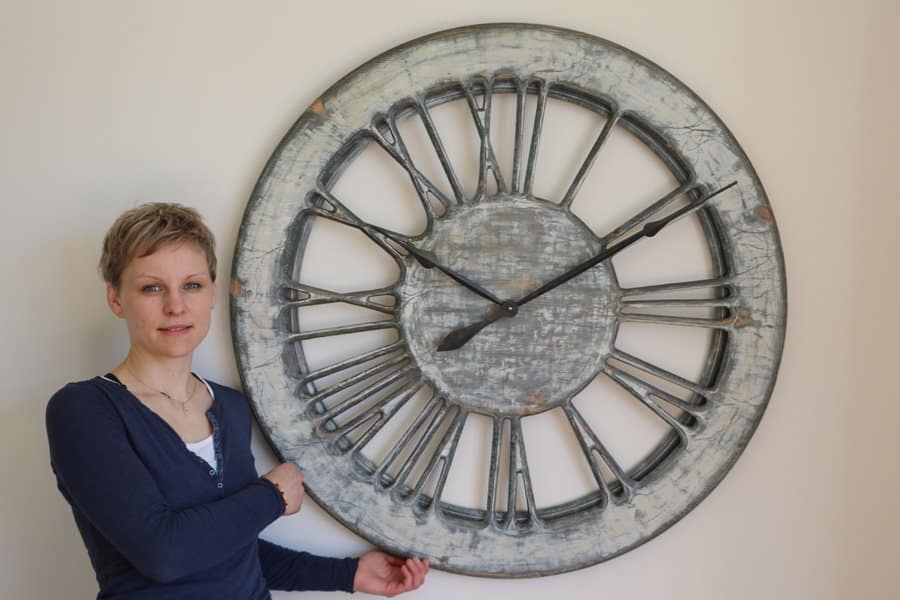 For interiors that need more intensity I have also designed white clock with full back plate attached. This new design is a lot more sophisticated and has a touch of fairy tale when you look at it. What inspired me to make it was a snow blizzard and this is how I called this wonderful centrepiece. Every time I look at it I think it would blend well in surroundings similar to those you can see in "Frozen" Disney movie. The uniqueness of this stunning shabby chic timepiece is unquestionable and I wouldn't be able to repeat it exactly the same way.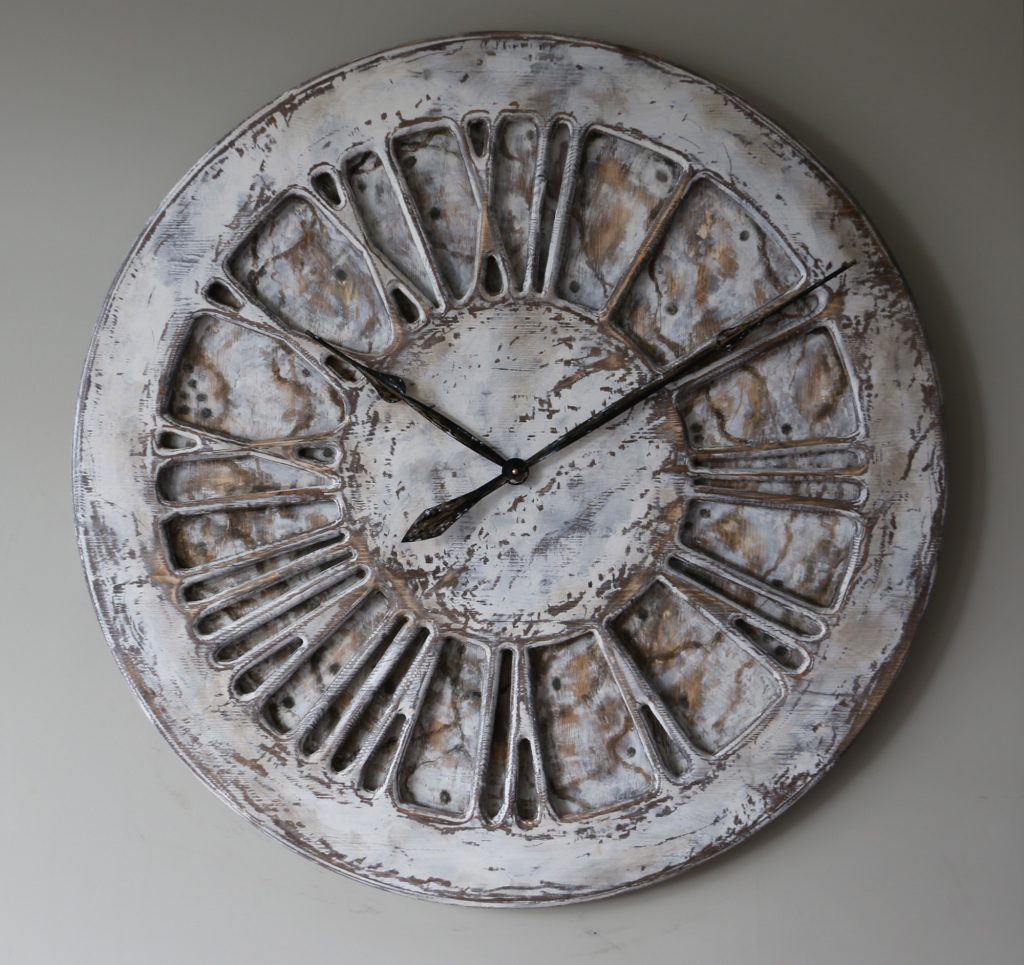 Large rustic clocks with grey & gold
I have so many more ideas for the new wall clocks in shabby chic style that it would be impossible to make them all. There are virtually limitless possibilities and the blend of colours may depend on your specific requirements. Many of those rustic timepieces look amazing in grey. The next extra large wall clock below is a lightweight roman numeral design with remarkable distressed face. Although the walls aren't really shabby chic but the attractive clock face ads so much character to the room.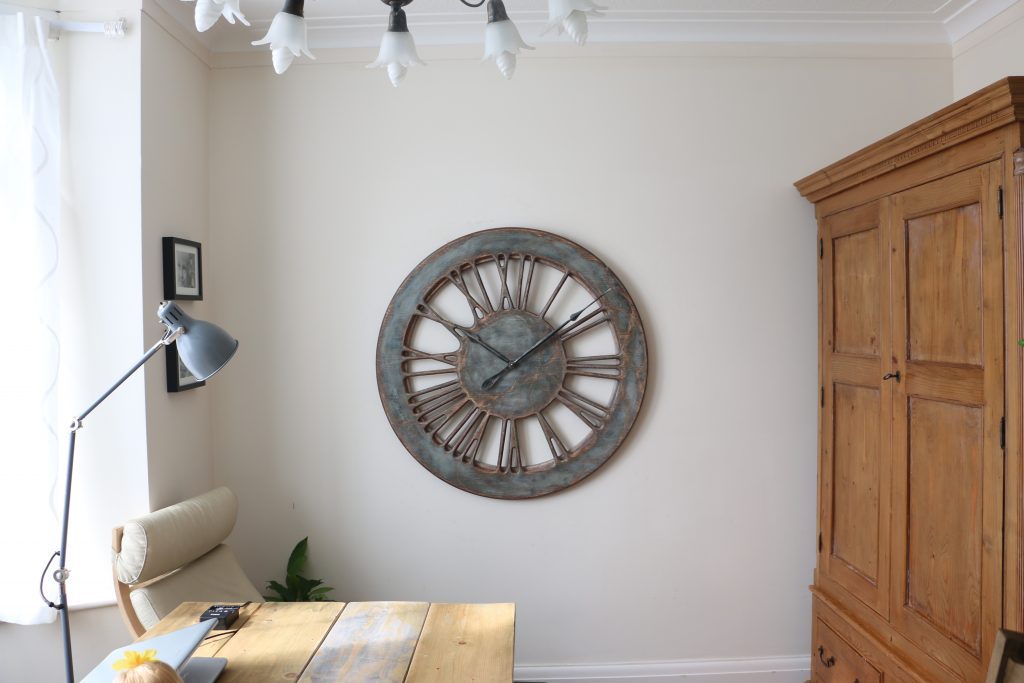 If you take the same front and add a golden, aged back plate you can totally transform the same wall clock. The next photograph shows it really well. Depending on the interiors, most shabby chic clocks can look slightly different. You can see how the shades of blue are coming out from this large wall clock for living room. It is astonishing but it truly adapts itself to your home and furniture. It looks different at different times of the day too depending on the direction and intensity of light. Its beautiful character really stands out and you will agree it provides a strong statement in this living room.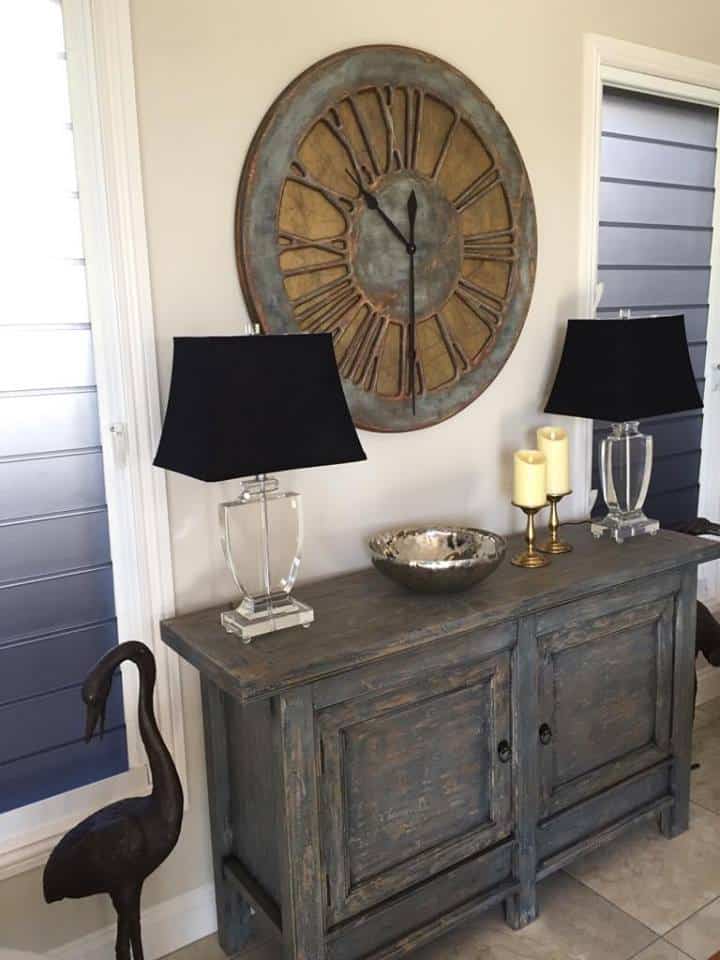 Shabby chic clocks tailored for you
We have many remarkable timepieces available in our online store but I always say please get in touch. When it comes to designs for shabby chic clocks the options are pretty much endless. We all know that the beauty of this interior design style is showing wear and tear or signs of age. This is what makes all of our handmade clocks designed with shabby chic features so extraordinary. One more example I will show you here is custom order. One of our customers in UK wanted something new for his large apartment. The main requirement was to make a 40″ skeleton clock with Roman Numerals. It also had to look really distressed and weathered with shades of gold and grey. The final result of this shabby chic wall clock is on the picture below. What do you think? Please submit and questions or comments here or if you prefer on our Facebook Page.